This year's Eesti Laul by far has two absolute favourites. They're definitely Alika with her song called 'Bridges' and Ollie with the song 'Venom'. Bookmarkers predict a total-win position for Alika, but what about the fans? In Facebook groups we made a poll, whether the real ESC fans prefer her over Ollie, as the bookmarkers predict. Here are the results:
We asked the fans in 5 different Facebook groups, 2 bigger ones with over 20K followers and 3 smaller ones. Suprisingly, Alika won in only one of the fan-made ESC groups, and even in that, she won only with a few votes (Alika had 64,5% of the votes), and 67 people voted in the group. The other 4 groups predicted Ollie. The most popular ESC group also showed the higher preference for Venom, as the young boy got 149 votes by the fans, while Alika got only 81 of them. That's almost double.


Also, we should not ignore the fact, that the highly visited eurovisionworld.com's poll for Eesti Laul also predicts Ollie to be the most favourite (He has 29% of the votes, while Alika has 28%). Not a big difference, but Ollie shows the rising trendence, as Alika was the absolute winner there a few weeks ago. Looks like Ollie's live performance made his song more powerful.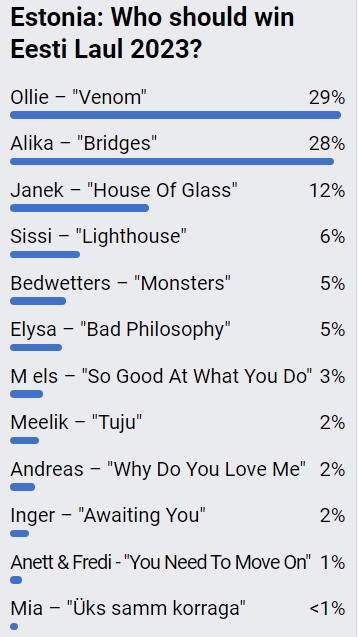 But obviously, not us, from all over Europe, will decide the results of Eesti Laul. We thought it'd be interesting to see what Estonians think about the two optional winners.
We checked the top 50 most listened songs on Spotify in Estonia. Both Venom and Alika are on there, but the difference is really obvious. Venom is on the FOURTH place in the Estonian chart, having more than twice listeners than Alika's song, Bridges that is only the 16th on the list.


Anyway, Alika is ruling the social media over Ollie. While she has 16K followers on Instagram, Ollie owns only 3K. Also, while Bridges' music video has 180K views, Venom has a little bit less, 166K, also Alika has more views on her live performance as well.
As we see, probably Alika is more popular as a person in her country, that's why so many people like her. On the other hand, Ollie seems to be more and more loved, not only in Europe, but in Estonia as well. And of course we cannot forget the fact, that not only the fans, but the jury votes are a big part of the voting system as well.
I'm sure that Eesti Laul's final will be one of the most exciting ones on "Big Saturday", on 11th February.
Will you watch the final? Which song is your favourite?